Lost and Bound BookArts
We work with leather, hand-made papers, vintage, found and repurposed materials, to create Travelogues, Portfolios, Journals, Planners, and Sketchbooks. 
Variations are the inherent charm of these products, making each book a one of a kind treasure. 
Contact us for custom orders and restoration projects. Estimates freely given.
Contact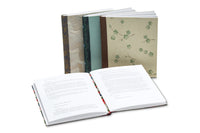 Custom Work
Family recipes, travel photo memories, genealogy/ancestry research history, dissertations, wedding guest books, or the tattered family bible — if it's important to you, let me bind it for you!
I love collaborating on custom work. If you want to showcase or preserve your treasures, contact me for a free estimate. Let's consider the possibilities!
View Custom Work Examples